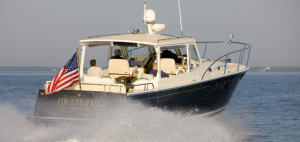 When setting out to build the world's most capable motoryacht, the vision was clear and ambitious. These new yachts would need to be strong, light, fast, fuel-efficient, comfortable, and stable, a step beyond anything available on the market. This meant advanced design & engineering, an innovative manufacturing process, and tougher, more expensive materials. This quality of construction is one of the fundamentals that sets MJM apart as the finest motoryacht in class.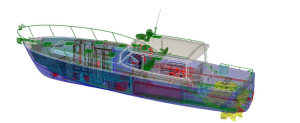 This is a semi-transparent CAD image of an MJM Yachts 50z showing all major equipment, layouts, and interior spaces. 
Advanced Design 
With the concept in mind, the next challenge was design. Who had the best eye in the business for drawing a pretty boat? To answer this MJM founder, Bob Johnstone, turned to highly acclaimed naval architect, Doug Zurn, of Zurn Yacht Design. Using the latest computer aided design (CAD) software, the design began to take shape. After beauty comes safety at sea, which means structural strength.
MJM Yachts are designed to exceed small craft structural requirements for ISO category A "Ocean". This is the International Standard Organization's most stringent design category. It is defined as the "category of boats considered suitable for seas of up to 7 meters (23 feet) significant wave height and winds of Beaufor
t Force 9 (41-47 knots) or less." In fact, the only two Down East style yachts of any size Certified Category A are the MJM 40z and 50z. There is a comforting peace of mind and confidence gained from knowing that your boat is the best built and has the safest design possible.
Only then are creature comforts addressed: side access doors, flush main deck, an open pilot house with 360 degree views, and the spacious great room below decks. The CAD software allows the design team to work on ergonomics and properly position all equipment and sub systems. Being able to visualize and manipulate in a virtual environment how components and equipment will fit into a space and interact with other equipment and the crew allows for perfecting a design prior to actual manufacturing.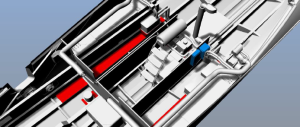 In this image amidships of a 50z, you see placement of the Seakeeper gyro stabilizer under the ladder, the air-conditioning system forward of that, and the inverter/charger in blue.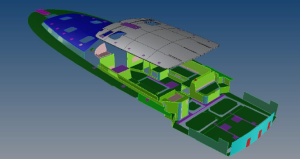 Here is a look at a screen shot from the computer aided design process. The different colors represent different structural core density based on loads and stresses. 
Advanced Engineering 
Building a performance yacht like an MJM takes a great deal of planning and engineering to predict stresses and loads placed upon all structures. Here computations for weight, vertical center of gravity and hull shape interact to determine materials to be used to deal with forces impacting the yacht. The combination of design, engineering, materials and processes determine the final outcome, and is why an MJM is so stable, fast and fuel efficient. A key part of the design is MJM's improved deep-V hull shape, which influences speed, stability and handling. Other factors include buoyancy and bow shape, which on an MJM serve to eliminate a delayed response to the wheel, bow steer, or burying the bow in large following seas, not to mention helping to keep guests stay dry. A low center of gravity and narrow beam with chine flats redirect wave and wake energy outward and downward to dampen roll in a seaway. The narrower hull shape slices through waves instead of slamming or having each small wave create a mini collision and jolting the crew. These are just a few of the key engineering points which differentiate an MJM.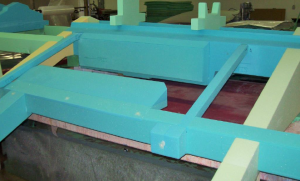 This is a look at the CoreCell stringer system with the differing colors represent varying densities. This structure will be encapsulated with E-glass and Epoxy into place in the hull, creating a unitized structure. 
Superior Materials 
In real estate it's all about location, location, location; in performance yachts you can say it's all about materials, materials, materials. Each MJM yacht is constructed from superior materials selected specifically for weight, strength, stress loads, and function. Minimizing weight is essential in a performance yacht, but you can't do that without increasing strength and stiffness. For this reason, master builder Mark Lindsay and his Boston BoatWorks (BBW), were enlisted as MJM's licensed building partner. Mark had over 30 years of high-tech boat building experience using advanced composite materials building America's Cup, World Championship, and Olympic racing sailboats.
Epoxy, though far more expensive than traditional polyester and vinylester resins, is a much better adhesive that is 25% stronger and has greater flexural strength for longer life. Another advantage is the more tightly linked molecular structure that makes it almost impervious to osmotic blistering. In fact, the prescribed cure for boats suffering from bottom-blistering is the application of a new outer layer with Epoxy resin.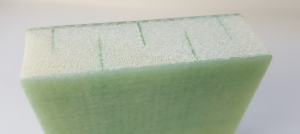 Hull Laminates: Kevlar/E-Glass Hybrid outer skin, stitched biaxial E-Glass structural laminate, 1" CoreCell SAN closed-cell foam core, Pre-Preg Pro-set Epoxy 38% by weight, Vacuum-bag compressed up to 14.7 psi and high temperature post-cured at 145F. 
The choice of CoreCell is also based on strength to weight factors and is used to core the entire hull, deck, and superstructure. The combination of the CoreCell and Kevlar in the outer skin creates a structure similar to a continuous I-beam that is stiff, strong and light. The engineering dictates what density of coring should be placed in various areas of the hull and deck. Each panel is pre-cut and numbered for installation.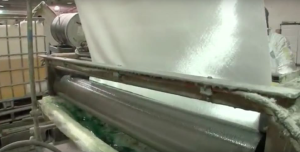 Professional Boatbuilder Magazine wonders why all builders don't use this wet impregnator system of high pressure rollers to saturate fiberglass material, and at the same time squeeze out excess resin, before the cloth material is put into the mold. Other builders use either the traditionally cheap method of laying sheets of cloth in the mold, spraying copious amounts of resin on it, then hand rolling or laying dry glass sheets in the hull, bagging it, then infusing a diluted resin by vacuum. The process on MJMs results in a stronger 60:40 glass to resin ratio, rather than the reverse. Resin is glue and should be minimized. 
Advanced Composite Construction 
These materials are then utilized in a revolutionary process in the hull and deck molds. The inside of the mold is coated with a premium Epoxy compatible gelcoat. Then the outer skin is a wetted, Epoxy-impregnated Kevlar/E-Glass cloth that is unrolled to go the full length of the boat. This results in strands of fiberglass going from bow to stern instead of being chopped up or sectionalized in short pieces. The Kevlar provides added impact resistance, which is what it does in bullet-proof vests. Next comes the waterproof CoreCell structural foam and finally the inner skin of E-Glass. There is no wood in the structure of an MJM. The hull grid with foam-cored stringers and bulkhead landings are then installed and encapsulated in a fiberglass laminate.
The next step is to bag the hull and grid with a plastic sheet. The edges are sealed and vacuum lines installed before pulling a vacuum, which compresses the laminate with a force of approximately 2000 lbs. per square foot. This process ensures there are no air voids and ensures a unitized, lightweight, and strong structure.
The last step in the lamination process is to post cure the molded parts for 24 hours. This process allows Epoxy to better cure at a better molecular level than polyester and vinylester resins which on other boats continue to cure over the first year with the potential for serious print-through.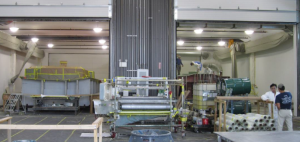 A look at the two large curing ovens at Boston BoatWorks. Each hull and deck is post-cured for 24-hours at 145F. 
Epoxy-built MJMs are stronger, lighter, and longer lasting. With hull and deck structures comprising up to 25% of a boats total weight, you can understand why MJMs are in most cases many thousands of pounds lighter than similar sized boats. But it doesn't end there. Greater hull and deck weight requires more horsepower to reach acceptable cruising speeds. This means larger, heavier engines to get the boat going. Larger engines burn more fuel. That means bigger fuel tanks for reasonable range. It's a vicious circle, which MJM has taken an industry leadership role in reversing, becoming "The World Leader in Fuel Efficient Powerboats".
Owner benefits are huge: better response at the wheel and more fun to drive; more speed per horsepower applied and a chance to take advantage of weather windows; and a lower center of gravity for more comfortable motion at sea. Soundings Technical Editor, Eric Sorensen commented, "When it comes to the lifespan of today's best-built boats…What's to fail on an MJM? It's an oven, post-cured Epoxy boat. It's as well built as a Dreamliner, as far as I can see. There's no reason that a boat like that couldn't be here in 100 years." Maybe 200 years, he later added.