Welcome to DIAZ MARINE
Your Florida Dealer for MJM Yachts & Vanquish Boats
---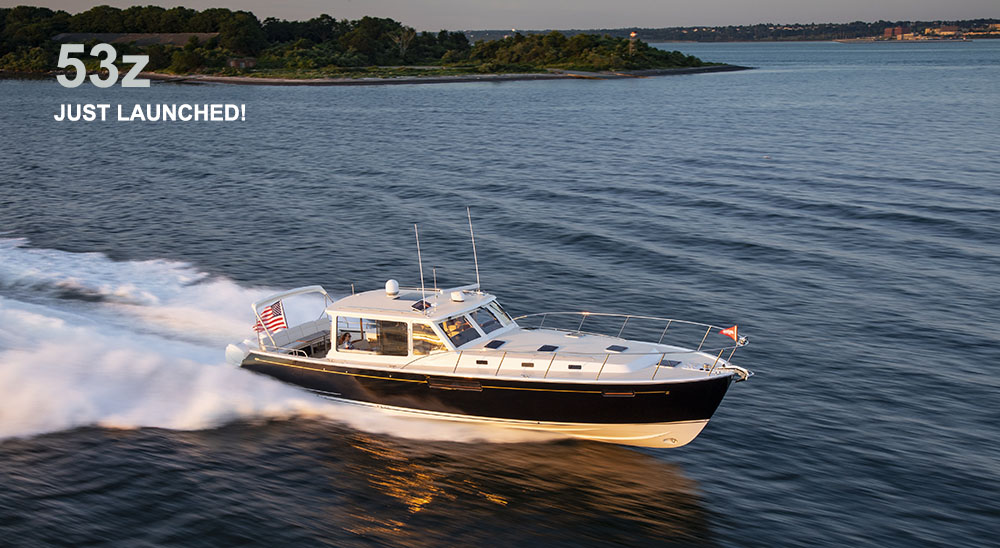 The Third Outboard Express Cruiser in the company's unique new line up.
Bob Johnstone, founder and CEO of MJM Yachts, and son Peter, Director of Product Development, announced introduction of a quad-powered 53-foot yacht for summer 2019. With quad Mercury Verados, it is expected to reach speeds of 50 mph while offering the benefits boaters enjoy from smaller sport boats: shallow draft, easy maintenance, and easy handling around the docks. "Now in the 53z boaters can also enjoy the enhanced living space, all weather cruising, and smoother ride offshore that we all like in a bigger boat," said Bob Johnstone.
The Johnstones' MJM Yachts is just the right company to deliver on the promise of performance with comfort. The Doug Zurn-designed hull has a slippery 3.5-to-1 waterline length-to-beam ratio for great stability at higher speeds. The new model's predecessor, the MJM 50z, powered with triple IPS 600's, has a top speed of 40 knots (46 mph,) considerably quicker than its downeast competition. MJMs are built stronger and lighter by Boston BoatWorks, the leader in advanced epoxy composite construction. The weight savings resulting from this unique design/build are reinvested by MJM to create a fast outboard-powered cruising yacht over 50 feet which, to date, has only been achieved by smaller boats or open center consoles.
Living spaces are generous and well appointed. Belowdecks, MJM for the first time offers as standard, a spacious two-cabin dual master suite layout with ensuite heads having large glass wall showers with seats. Only three steps up, on the flush bridge deck, there's a feeling of openness with large, lushly cushioned settees and moveable chairs that welcome family and friends aboard. Sliding safety glass side windows and powered windshields open fully to the fresh air, or when closed, allow for a fully climate-controlled environment.
Driving the 53z is sheer joy. The boat's shape, speed and power give it tremendous stability and sportscar response to the wheel. And, for those who demand a peerless ride, the 53z's optional Seakeeper gyro stabilizer dampens 93 percent of any roll, even at the dock.
Carry on a normal conversation at WOT? Yes, with the already quiet Verados behind the transom, the engines not only aren't visible from the bridgedeck, but at some speeds, they can barely be heard.
The MJM 53z is expected to carry ISO Category A Ocean Certification as does its predecessor model, the MJM 50z.
Boaters coming from the easy operating world of center consoles will appreciate 53z's Skyhook feature. Engage Skyhook to hold the vessel in place while you take your time with fenders and lines. Moving into your slip, Joystick Piloting makes landings a breeze, even singlehanded. The flush deck and side-boarding doors let you move easily from helm to cockpit and out onto the dock in seconds. Once there, it's a 10 minute hose-off and go. The MJM 53z quality exterior finishes and deck hardware keep maintenance to the barest minimum.
Johnstone summed it up, "With the twin MJM 35z and triple MJM 43z introduced last year, and particularly now with this new quad MJM 53z, the term outboard cruising yachts has become a reality. MJM offers yachts that are at at the pinnacle of the outboard world. If you are nostalgic for the days when outboards were for fishing boats, we'll even install some rod holders and a live well."
---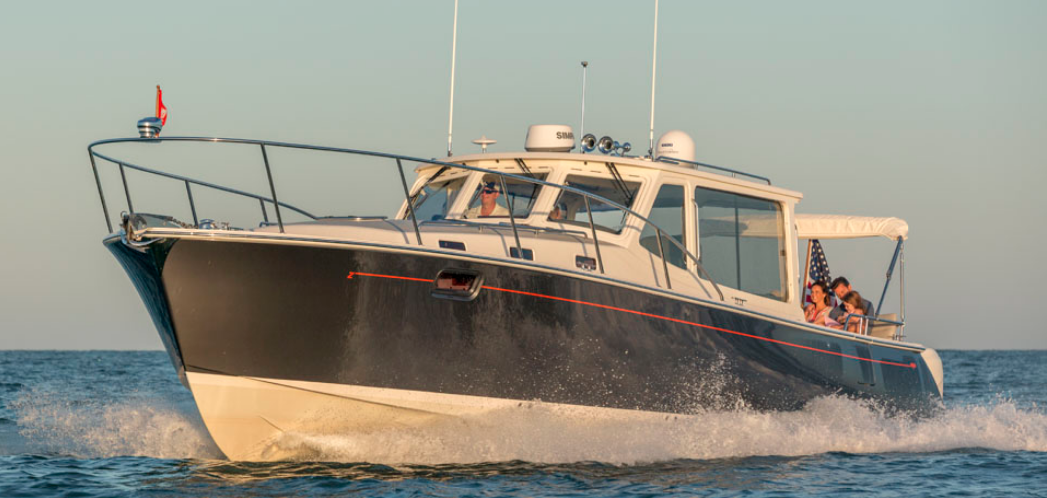 In its new 43z, MJM Yachts offers the cruising comforts of its unique, high tech downeast designs along with the sporty handling, enhanced speed and shoal water versatility of outboard power. The launch of the 43z, and its sistership the 35z, represent the most advanced level of a new and rapidly growing category of boat, the Outboard Express Cruiser. Boaters who now own outboard-powered center consoles, but are looking for more comfort underway and at anchor, can have both in MJM's two new entries. The new 43z with triple outboards features speeds to 50 mph, go-anywhere shoal draft, responsive handling and low maintenance. And that is now paired with those features MJMs are noted for: all-weather cruising comfort in an offshore capable, quality-built yacht. The result? Going to the beach becomes a far more pleasurable weekend experience. Anchored bow out, engines up, with stern beach anchor, the new 43z becomes a virtual beach cottage with all the comforts just a few feet from the sand.
Boaters will love the technological and control advances of the 43z's triple Mercury 350 hp Verados with joystick piloting, Skyhook autopilot, low maintenance costs, easy pre-flight checks, and quiet running.This bundle of owner benefits is enhanced further by the roll-stopping, optional Seakeeper 5.
The longevity and quality of an inboard boat is often defined by engine life, while that of an outboard boat isn't, because it's no big deal to clamp on a new outboard. That means the epoxy composite 43z, built lighter and "Boston Strong" by Boston BoatWorks, will hold its value and be around for a long time. A Zurn- designed hull provides a smooth 3.5:1 length-to- beam running surface you will appreciate from the moment you take the helm until the moment someone pries your fingers from the wheel.
MJM 43z is the outboard version of what many say is the best all-round express cruiser on the market, th eIPS-powered MJM 40z. To create the 43z, the proven hull was extended to 42' 7" with a robust outboard propulsion platform. LOA with engines and anchor roller is over 46 feet.
Like all MJMs, the 43z is well and functionally outfitted. On deck, all finishes are kept hose-and-go simple. The Esthec decking feels great underfoot and while adding a warm styling element, adds nothing to maintenance requirements. There are side-boarding doors at floating dock height for easy access onto a flush deck that is without obstacles from transom to helm. Opening windshields, windows and hatches are there for the times you want the wind in your hair. When enclosed, the bridgedeck has great lounging space with a view from every seat—heat or air conditioned to your heart's content.
Belowdecks, there is a good working galley for life aboard, a big comfy island berth for two and a head toport with separate shower with seat to starboard. Cabin decor is in classic Herreshoff style, accented incherry that will remind you fondly of the brand's New England roots.
---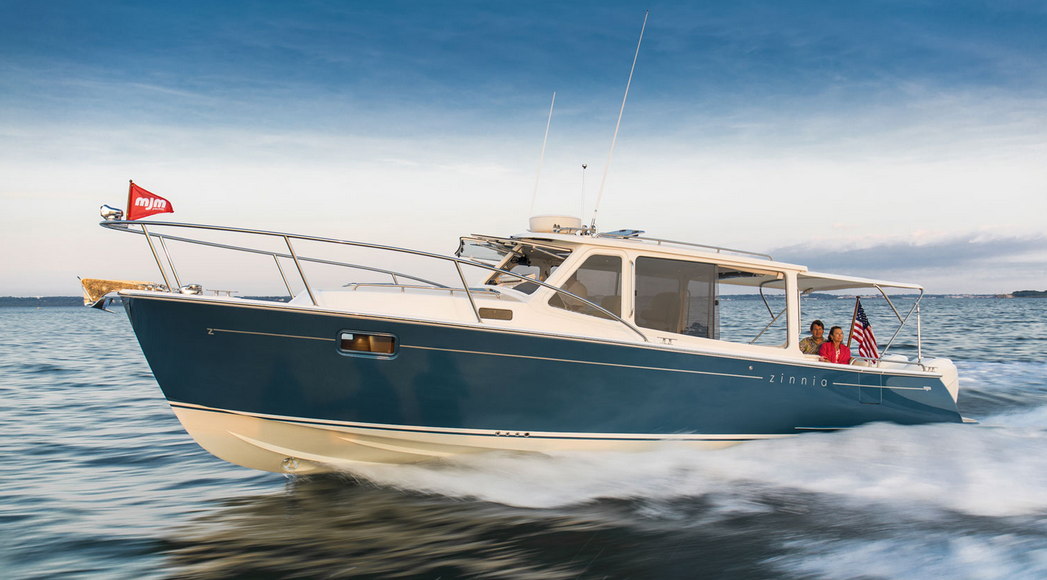 MJM introduces what other outboard brands have sought to achieve… a combination of performance and comfortable, all-weather family boating in a stunning design having great versatility. 35z's fuel efficiency, 1.2 mpg @ 35 mph cruising speed with twin 300s. There are two explanations: MJM's unique wet pre-preg, post-cure, epoxy composite construction for a stronger, lighter and longer-lasting hull; and a seakindly Zurn-designed modified deep-V hull with a greater waterline length-to-beam ratio of 3.5:1, versus a more typical 2.7-3.0 ratio. Another welcome trait is the absence of chine-walk at speeds approaching 50 mph… proven on MJM's earlier 29z with twin 250s. This hull shape gains stability the faster it goes as lifting strakes and chine flats redirect wave and wake energy into effective stabilizing forces.
Her standard configuration includes twin 300 HP outboard power, joystick docking, GPS station keeping, autopilot, engine auto-trim as well as your choice of roll-up Strataglass or sliding safety glass sides. Sea trial feedback from owners confirm the 35z "handles smoother and more responsively than any boat I have driven" and that "her power and stability add a level of comfort and fun to boating, second to none." She has also been praised by the magazines such as Kevin Falvey, the Editor of Boating Magazine who said "the layout is amazing, with far more room and open feeling you get from much larger boats."